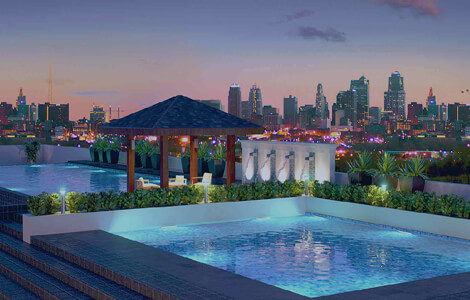 Quezon City's Economy
This busy, bustling city boasts of a booming economy. Quezon City is one of the richest cities in Metro Manila and when I say richest, I mean richest and not a city that is on the brink of collapsing economically but the administrators covering up the mess like they usually do. It is popular because of its stability economically and as a former national capital, Quezon is highly developed in all aspects just as you guessed. The means of transportation in this city are modern day means of transportation with the roads highly developed. This highly contributes to the economic growth of the city.

There are modern day commercial centers in Quezon city. Commercial buildings stretch all over the central business district. The world-renowned Araneta Centre is the mother of shopping malls that are found in this city. This is probably where you should come get all the stuff that you need. Restaurants, entertainment joints and bars and clubs are many in Tomas Morato Avenue. As the city is touristy, tourist attraction sites contribute to the growth of this city. There are many places to visit as a tourist both as a local; it's not bad to promote your own country, or a foreign tourist. Some organizations' headquarters lie in Quezon city for instance the Mercury Drug Cooperation, IBM Philippines and Citibank Philippines. The Eastwood City is where most headquarters are found since it acts as a business district.Some of the communication systems that serve Philippines are based in Quezon City. This shows how this city's economy is doing well.

Education
Education is a major social aspect that not influences the growth a country's economy but also our own growth. This why educational institutions have been set up by the government and private investors in the city. This means that there are both private and public schools in the city. The educational institutions run from preschool to higher education institutions that is, universities and colleges.Quezon being a highly urbanized city, the education institutions found there are quite appealing and satisfying. There are major education institutions in this city that have all the necessary facilities for instance well equipped libraries, science laboratories, theaters and play area for the children as playing is very important for children's growth. Different schools provide different education systems thus all the parents are catered for. Quezon is also home to international schools for instance Ateneo de Manila University which has level IV accreditation, Benedictine International School which provides exceptionally quality education to its students and Britesparks International School which has state-of-the-art facilities in the school.Some of the private schools include Marian School of Quezon City which is located at Sauyo Road, Montessori Filipino Child Research Center which is located at Melchor Street, and Our Lady of Montichiari School which is located at Lanete Street among other private schools. The private schools run from those that a commoner can afford to those that are quite expensive.

There are many public schools in the city. Those who cannot afford private school fees or those who believe in public school education system you are not left out either for these public schools still provide good education to their students. Some of the public schools include, Carlos L Albert High School, Arnesto Rondin High School, Balingasa High school which is located at Junior Aquino Street, Bagong Silangan High School which is located at Villiamor Street, Culiat High School which located at Tandang Sora Avenue. The good thing with this city is the proximity of schools to residential areas. Schools are located within residential areas. Others are located around the central business district because people have different preferences. The schools are also located along highways and major streets within the city therefore it is not hard to access them whether on foot or by cars. For those who use buses, the bus stops are usually near the educational institutions.

Residential Areas in Quezon
There are many residential buildings in Quezon. Some of them are near the central business district. It depends on one's tastes and preferences. The homes here run from cheap to highly priced homes. The city's high population led to the need to have more residential buildings. Some districts of the Quezon City are primarily residential areas.The vicinity which the residential buidings are located at range from quiet environments to noisy environments. The cheaper homes are usually in the highly populated areas therefore there is much noise there. The affluent live in the quiet residential homes. These are highly priced but they are worth it.The Timog area is a commercial-residential area. It is filled with shopping malls and stalls therefore the residents of that area do not have problems about distance to shopping centers. The integration of residential area with offices and work environments is quite Hugh in this city. Some of the residential areas include Eton Centris, Araneta Centre and Eastwood City. These residential areas have luxurious condos integrated with work and play facilities for instance, there are shopping malls, spas, theaters, clubs and restaurants within the vicinity. This is easy for the residents to grab the essential stuff.

Shopping Centers
Shopping centers are scattered around the city. Quezon being a former capital of Philippines, it is filled with commercial centers where the residents can buy goods. The shopping centers are located along major streets and they provide exemplary services. There are megamalls within Quezon which give their customers unforgettable experiences. The price of goods and services in these malls vary depending on several factors. There are both enclosed and open air shopping centers in the city. The open air shopping centers offer goods at a much cheaper price than the enclosed shopping centers. Bargain markets are also available within the city. They also offer goods at a cheaper price. The major shopping malls in the city include Alimall, Farmers Plaza, SM City North EDSA which is the largest mall the Philippines.The shopping centers not only cater for the residents' kitchen need but also cater for other needs too. There are lifestyle malls in the city and they offer more than you can imagine. Spas and boutiques are in plenty.